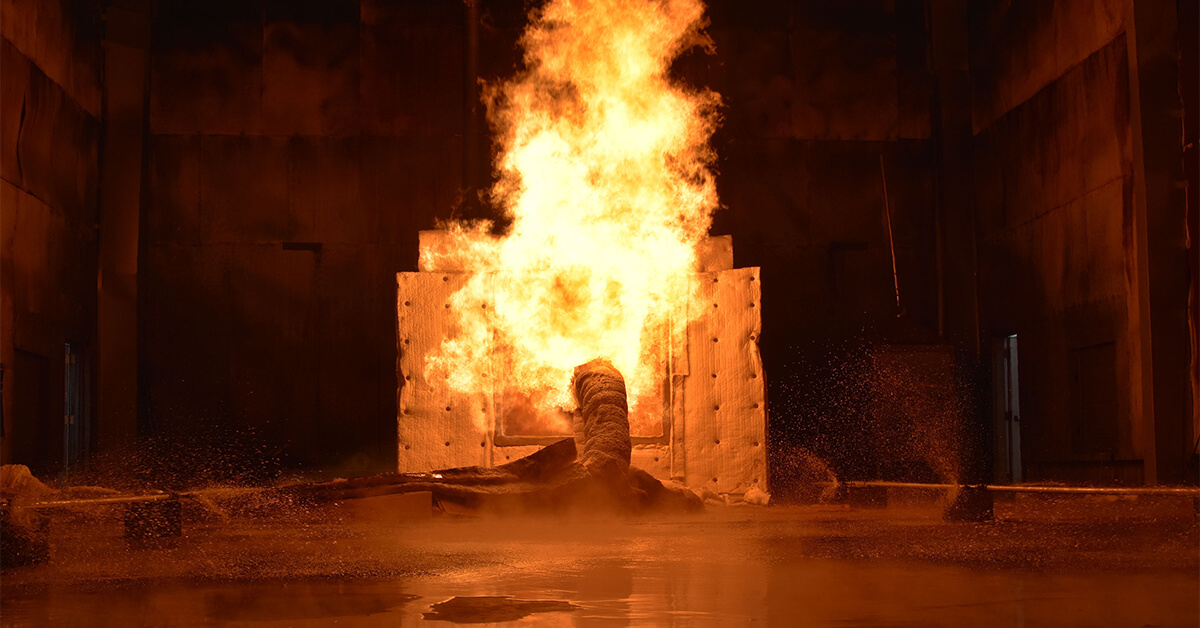 In the industrial coatings world, there are few things worse than transporting freshly coated steel to a job site only to find significant damage to that coating upon arrival. Shipping steel members is hard on coatings systems—even cementitious ones. Additionally, through testing, owners and specifiers want confidence that fireproofing coatings will protect the steel, and ultimately human life, after installation. Plus, if a product is difficult to apply, no contractor will want to use it.
When designing our innovative Pyrocrete 341 cement-based fireproofing solution, Carboline's Research Development & Innovation (RD&I) laboratory aimed to not only improve cementitious technology in these areas, but to completely revolutionize it. Pyrocrete 341 offers facility owners and engineering construction firms a simplified, single-product solution to meet all passive fire protection (PFP) critical performance design criteria for long-term asset protection.
Below are three major features that make Pyrocrete 341 the next-generation fireproofing solution in PFP products available to the oil and gas industry:
1. Improved Application Properties Cut Time to Hardness in Half
Pyrocrete 341 drastically reduces the time to full hardness associated with cementitious passive fire protection products—by nearly half! Most cementitious PFP products require approximately seven full days to reach hardness suitable for shipping. With Pyrocrete 341, applicators can achieve total hardness in as little as four days, or slightly more than half the time. This increased cure response is a significant advantage for all applicators, but provides a considerable competitive edge for shop applicators. As the fireproofing cures, the steel takes up space during a shop application, preventing more work from being performed. The fast cure response of Pyrocrete 341 can prove to be exponential throughout a long project—resulting in significant time and cost savings for applicators.
In addition, the speed at which Pyrocrete 341 reaches full cure is even more impressive when you consider the relative thickness with the product being installed. Unlike other products on the market, Pyrocrete 341 is applied up to 1.5 inches thick. This achievement is significant for two reasons: 1) this thickness is enough to achieve most fire ratings in a single lift, and 2) when coatings are thicker, they cure slower—not faster! Not only does Pyrocrete 341 cure quickly, but it also eliminates the need for multiple coats.
2. Increased Durability Reduces Mechanical Damage
Pyrocrete 341 gets hard—really hard. During the final stages of development, Carboline's RD&I team debated the best way to demonstrate the high durability of Pyrocrete 341. In a purely logical move, we sent one of our chemists up in a bucket lift with various items to drop from above onto a beam coated with Pyrocrete 341. This began with a one-pound steel ball dropped from a 20-foot height. The product, when faced with this challenge, resulted in just a minimal dimple. This performance was a great indicator of how well the product would handle mechanical damage, but we wanted to challenge 341 even more.
For further experimentation, our RD&I team next sent a cinder block up in the bucket lift to be dropped from a 10-foot height. Impressively, the cinder block exploded into small pieces as it came into contact with the surface of the beam coated with Pyrocrete 341. By comparison, another leading brand didn't fare nearly as well with this test. Instead, the cinder block failed to break, as this competitor's fireproofing product was not strong enough to absorb the impact. This demonstrates how Pyrocrete 341's high durability will reduce mechanical damage associated with shipping cementitious fireproofing-coated steel.
3. Extensive Testing & Certification Validates Actual Product Performance
There are many prescribed test standards associated with PFP products—from the rigorous UL 1709 Rapid Rise Fire Test, to the jet fire's erosive forces in ISO 22899-1. Some manufacturers are content to conduct testing only to these prescribed standards. Though there's nothing wrong with this practice, it may not offer the most accurate indication of actual product performance across various potential scenarios.
In addition to the prescribed test standards, Carboline took a different approach to evaluate the actual performance of Pyrocrete 341 with exposure to significant events, followed by pool or jet fire, in order to simulate real-world threats effectively. These testing sequences were simply no match for Pyrocrete 341—making it one of the most robust fireproofing products available to the oil and gas industry today.
Want to Learn More about Passive Fire Protection Coatings?
Listen to Carboline's recent podcast episode that discusses the different types of passive fire protection coatings available in the industry—and when to use an intumescent vs. a cementitious solution.