FOR IMMEDIATE RELEASE
06.25.2018
St. Louis, MO. 06.25.18 – Carboline Company has been awarded a 2018 Top Workplaces honor by The Post-Dispatch. The Top Workplaces lists are based solely on the results of an employee feedback survey administered by research partner Energage, LLC (formerly WorkplaceDynamics), a leading research firm that specializes in organizational health and workplace improvement. Several aspects of workplace culture were measured, including Alignment, Execution, and Connection, just to name a few.
"Top Workplaces is more than just recognition," said Doug Claffey, CEO of Energage. "Our research shows organizations that earn the award attract better talent, experience lower turnover, and are better equipped to deliver bottom-line results. Their leaders prioritize and carefully craft a healthy workplace culture that supports employee engagement."
This is the fourth year in a row that Carboline has been ranked in the Top Workplaces. The award was made possible by actual employee feedback, which is the most rewarding part of the award.
"The success of Carboline is a direct result of every employee striving to be the best they can be. Our employees have helped Carboline gain the valued reputation we enjoy today with our customers, industry and community.," says David Morlen, VP of Human Resources of Carboline Company.
The St. Louis Post Dispatch published the complete list of Top Workplaces in June 2018. For more information about the Top Workplaces published by the St. Louis Post Dispatch, please visit http://www.stltoday.com/business/workplaces/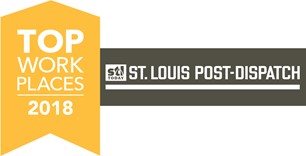 About Carboline Company
Carboline Company is a St. Louis-based coatings manufacturer with a global reach. The company, founded in 1947, produces high quality performance coatings, linings and fireproofing products in more than 20 manufacturing facilities around the world. Carboline's cutting-edge research and development center is a reflection of their commitment to remaining at the forefront of the protective coatings industry. For more information visit www.carboline.com.
Media Contact:
Jane Woodall, 314-644-1000 x 2340, jwoodall@carboline.com