FOR IMMEDIATE RELEASE
05.02.2018
St. Louis, Missouri, May 2, 2018 – Carboline has broken ground on a state-of-the-art full-scale passive fire protection testing facility at its Research, Development, & Innovation (RD&I) Center. This $4 million investment is scheduled to be complete by the end of the 2018 calendar year.
The new space will be the first manufacturer owned UL-approved fire testing facility in North America. Carboline will now be able to test products on its own timeline and not rely on an outside testing agency's schedules. Carboline's current fire lab was built in the 1970s, and although it has been upgraded and improved over the years, this project represents a total redesign and rebuild of its capabilities. Carboline felt the upgrade and expansion were necessary to address new developments in the industry.
"Our new testing facility will increase our speed to market for new fireproofing products, give us the ability to receive approvals for alternate raw materials, and fulfill testing requirements for ever-changing codes and regulations," stated Jim Rippe, executive vice president, fireproofing/engineering sales.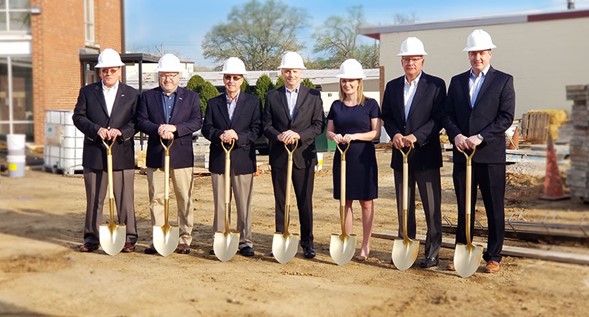 (Left to right) Howard Combs - Vice President International Sales, Jeff Anderson -  Vice President Research, Development & Innovation, Dwayne Meyer - Executive Vice President Commercial & Technical Resources, Chris Tiernay - President & COO, Melissa Bentley - Vice President Marketing, Jim Rippe - Executive Vice President Fireproofing / Engineering Sales, Jeff Redfearn - Executive Vice President – Chief Financial Officer & Treasurer
About Carboline Company
Carboline Company is a St. Louis-based coatings manufacturer with a global reach. The company, founded in 1947, produces high quality performance coatings, linings and fireproofing products in more than 20 manufacturing facilities around the world. Carboline's cutting-edge research and development center is a reflection of their commitment to remaining at the forefront of the protective coatings industry. For more information visit www.carboline.com.
Media Contact:
Jane Woodall, 314-644-1000 x 2340, jwoodall@carboline.com