FOR IMMEDIATE RELEASE
02.20.2020
St. Louis, Missouri, February 20th – Today Carboline hosted the grand opening of Carboline Fire-Science Research Center at 350 Hanley Industrial Court St Louis, MO. This six million dollar addition to Carboline's Research, Development, and Innovation Center allows Carboline to accelerate our speed to market by three times.
The event included a ribbon-cutting, tours of the Fire-Science Research Center, and a company luncheon. In attendance at the event was company President and COO Chris Tiernay, Brentwood City Mayor David A. Dimmitt, Fire Chief Terry Kurten, several members of the Chamber of Commerce, and 125 St. Louis based employees.
"There are two common traits that fuel Carboline's success;  Hire the best people the industry has to offer and equip them with the best tools possible. We have always employed the best people and today, I am proud to say that we now have access to one of the greatest tools yet.  In our pursuit and continuing commitment to fire science, safety, and innovation, the official opening of Carboline Fire-Science Research Center is a monumental step into the future of Passive Fire Protection product development," stated Chris Tiernay, Carboline President & Chief Operating Officer.
Jim Rippe, Carboline Executive Vice President Fireproofing stated, "We're extremely excited about the Grand Opening of Carboline Fire-Science Research Center. This facility will allow us to greatly enhance our position in the global fire protection market by rapidly increasing our speed-to-market with new product developments. We look forward to welcoming our guests to this world class fire protection facility."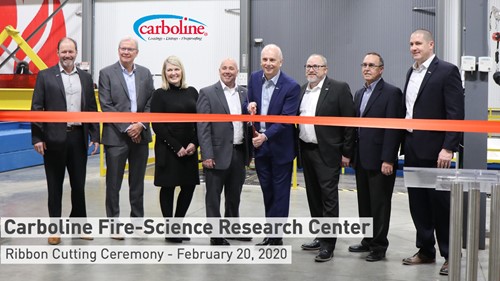 (Left to right) Darrin Andrews - Executive Vice President Sales USA, Jim Rippe - Executive Vice President Fireproofing / Engineering Sales, Melissa Bentley - Vice President Marketing, David Morlen - Vice President Human Resources, Chris Tiernay - President & COO, Jeff Anderson - Vice President Research, Development & Innovation, Dwayne Meyer - Executive Vice President Commercial & Technical Resources,  Jeff Redfearn - Executive Vice President – CFO & Treasurer.
About Carboline Company
Carboline Company is a St. Louis-based coatings manufacturer with a global reach. The company, founded in 1947, produces high quality performance coatings, linings and fireproofing products in more than 20 manufacturing facilities around the world. Carboline's cutting-edge research and development center is a reflection of their commitment to remaining at the forefront of the protective coatings industry. For more information visit www.carboline.com.
Media Contact:
Jane Woodall, 314-644-1000 x 2340, jwoodall@carboline.com