FOR IMMEDIATE RELEASE
06.22.2018
St. Louis, Missouri, JUNE 22, 2018 – Carboline is pleased to announce the release of Carboquick 200. Carboquick 200 is a high build, one coat, quick drying polyaspartic coating that can be applied directly to metal.
This coating is typically dry to handle in 1 to 2 hours. It is easy to apply and ready to spray without thinning and produces a smooth and extremely durable finish.
"In addition to its fast dry to handle time, Carboquick 200 also provides very good color and gloss retention in UV exposure, exceeding the long term weatherability requirements of SSPC Coating Specification No. 39 Level 3A," said Jeff Anderson, Vice President - Research, Development & Innovation.
One coat applied direct to metal (DTM) at 6 to 10 mils dry film thickness (DFT) provides corrosion protection of ISO 12944-6 C 3 High. Therefore, using this fast cure coating can eliminate the need for typical primer and/or intermediate coats.
"We are excited to introduce the premier product of the new Carboquick Family! Carboquick 200 eliminates the need for a primer and/or intermediate coats which speeds the painting process and saves significant time and money without sacrificing performance. You can expect to see more products soon with these same fast cure times and weatherable finishes in our new Carboquick Family," said Doug Moore, Director - Global Product Line.
Carboquick 200 provides both long term corrosion protection and weatherability in just one coat. This fast cure coating saves significant time and money without sacrificing performance.
View product details here.
Video: https://www.youtube.com/watch?v=AwTRnXKoxO8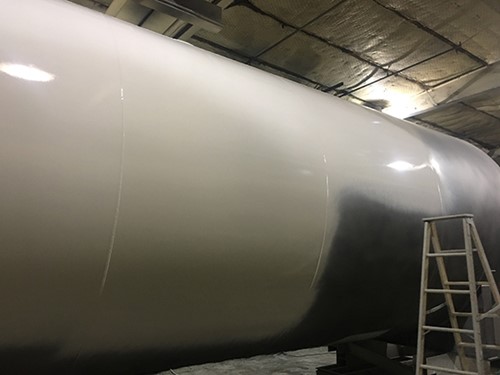 About Carboline Company
Carboline Company is a St. Louis-based coatings manufacturer with a global reach. The company, founded in 1947, produces high quality performance coatings, linings and fireproofing products in more than 20 manufacturing facilities around the world. Carboline's cutting-edge research and development center is a reflection of their commitment to remaining at the forefront of the protective coatings industry. For more information visit www.carboline.com.
Media Contact:
Jane Woodall, 314-644-1000 x 2340, jwoodall@carboline.com