From the early 1940s until 2020, people in Charles County, Maryland, and King George County, Virginia, crossed the Potomac River on a rudimentary two-lane, two-way bridge named after Maryland Governor Harry Nice. Thousands depended on it daily for both work and recreation.
However, throughout the 2010s, functionality and safety issues began to cause concerns. With only one narrow lane in each direction, traffic frequently became congested. Additionally, inspections showed irreversible structural degradation of the bridge. Calls for its replacement became louder, and the Maryland Transportation Authority (MDTA) began construction of a new bridge in July 2020.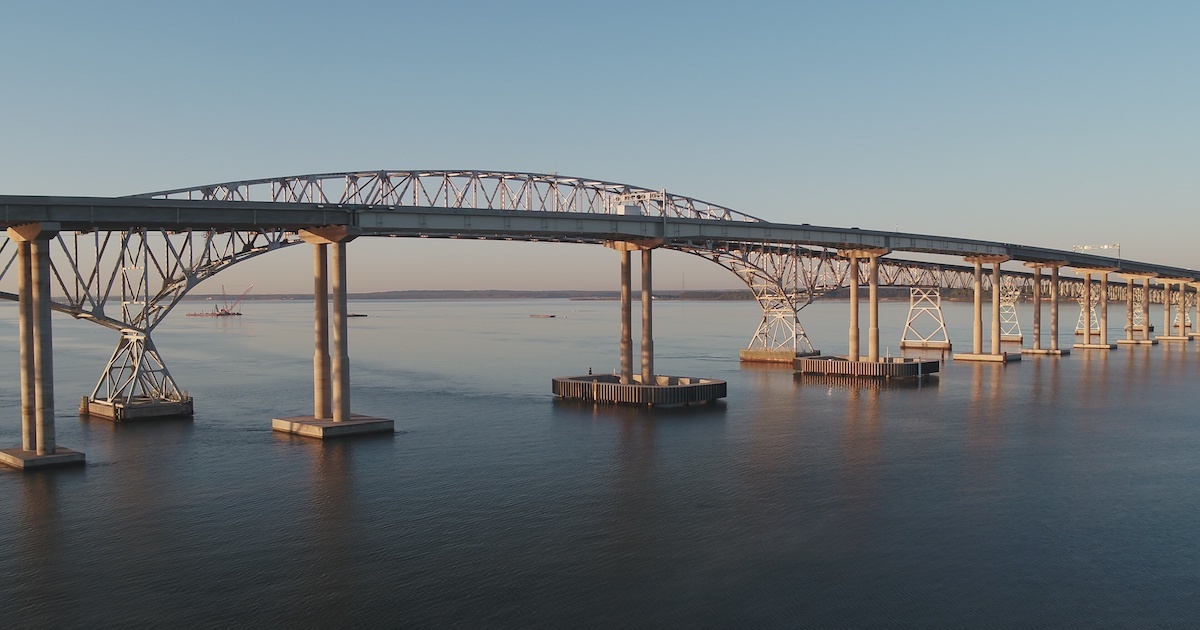 Photo courtesy of MDTA
This 1.7-mile (2.7 km), four-lane bridge improves upon its 80-year-old predecessor with double the vehicle capacity, improved safety through a barrier-separated median between east- and westbound lanes, electronic tolling to replace the outdated and unsafe stop-and-go toll booths, and a 135-foot (41-meter) clearance to enable tall ships to pass underneath.
MDTA authorities knew the steel members of the bridge needed to be painted, but they didn't know how to choose the right product. Carboline helped them do it, specifying a system with an untouchable reputation for corrosion protection.
A Unique Threat: Brackish Water
Being one of only three crossings of the Potomac downriver from Washington, D.C., this bridge is critical infrastructure for northern Virginia and southern Maryland. Additionally, it was especially critical that the bridge stand up to the elements in a comparatively severe environment: The Potomac River contains brackish water, meaning that it contains a mix of freshwater and saltwater. This makes it a more corrosive environment than inland river crossings.
Another challenge the engineers faced was that they had very little coating specification information to aid in their decision. The best resource they had was a NACE guide on how long various coating systems last in different environments, and the three-coat systems described in the guide would only provide 20 years of protection.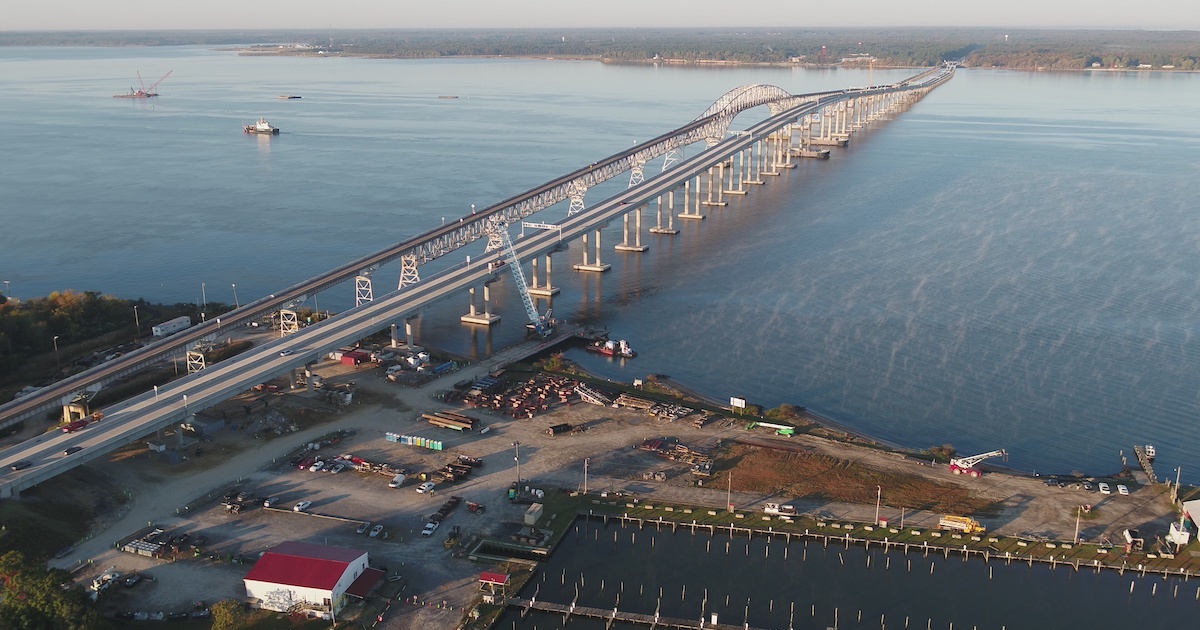 Photo courtesy of MDTA
That wasn't long enough. The MDTA told engineers they needed at least 33 years before recoating.
Fortunately, Carboline had previously worked on bridges in similar environments, including the famous Tappan Zee bridge replacement in New York. When representatives demonstrated past success with these types of projects, the MDTA readily specified our products for the project.
Finding the Right Products
Inorganic zinc primers are the right technology for these kinds of environments. Many manufacturers make them, but Carboline's Carbozinc 11 primer was the original and remains the industry standard for corrosion protection in severe service. A midcoat and topcoat also were specified for a three-part system:
Carbozinc 11-HS is an ultra-low VOC inorganic zinc primer that offers unparalleled corrosion resistance while meeting some of the most stringent VOC restrictions. Specifying this Carbozinc variant was crucial for a successful shop application emphasizing air quality and applicator safety.
Carboguard 893, which was specified as an intermediate, is fit for service either over bare steel or over inorganic zinc primers. It can be top-coated with a broad range of high-performance finish coats.
Carboxane 2000 is an isocyanate-free, ultra-durable coating that provides outstanding color and gloss retention as well as excellent corrosion protection for exterior exposures. While asset protection is always the primary function of a coating system, certain assets—like high-traffic bridges—must also be pleasing to the eye.
Carbozinc 11 has a long track record of exceptional performance for generations. MDTA's specification of this product in its coating system showed they were serious about counting on this key transportation asset deep into the future.
In-Shop Application
The MDTA specified in-shop application of all three coats, first because containing the structure over the water would be a huge cost, and second because shop-applied coatings are easier to inspect prior to erection.
Additionally, there are many other benefits to in-shop application, including:
• Coating in a temperature- and humidity-controlled environment
• Faster and safer overall application
• Reduced labor requirements
• Reduced liability costs due to lower injury risk
Back to Business
Named the Nice/Middleton Bridge, the $463 million construction project was completed ahead of schedule and opened to traffic on October 12, 2022.
Now that the bridge meets 21st century traffic demands, drivers and bicyclists alike cross the Potomac every day with ease. And they weren't the only ones who recognized a job very well done. In 2023, the project earned AMPP's Eric Kline Award for Outstanding Achievement in Coatings Work in a Fixed Shop.
But most importantly, with Carbozinc 11's lasting protection, the MDTA can rest easy knowing the coating system is expected to last well into the 2060s.