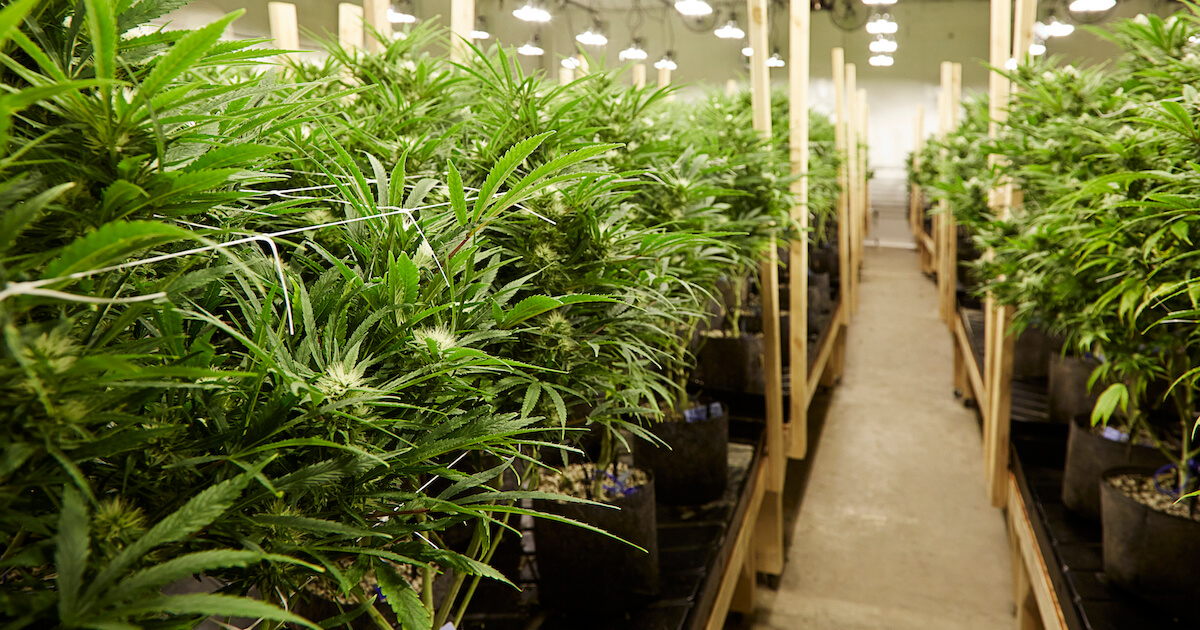 With the high demand and often-rapid timeline for cannabis growing facility (CGF) projects, facility managers can't afford the inconvenience or expense of an otherwise unnecessary floor repair.
Your time is better spent on producing safe, consistent, and high-quality products for a hungry market — not scrambling to fit in a multi-room flooring replacement in the middle of a 24/7 operations schedule.
In this article, we'll offer guidance on how to select the right flooring solution based on your facility's needs.
Industrial Flooring Basics for Cannabis Growing Facilities
Cannabis growers leave nothing up to chance when it comes to the health of their plants. Temperature, pH level, drainage, and water retention all play a part in efficiently producing high-quality products.
The same could be said for the flooring — you need it fine-tuned to the environment to run an efficient and profitable operation.
First and foremost, make sure you have your permits in line with state and local regulations and that you understand the flooring construction requirements. It's an obvious reminder, but it bears repeating in this industry — you don't want regulatory holdups slowing down your project.
Get familiar with the rules in your area by looking up state and local resources. Your starting point will differ based on how your state legally categorizes cannabis. In California, it's under public health; in Missouri, it's under health and senior services; in Oregon, it's under the liquor and cannabis commission.
Most of the growing facility flooring requirements will be straightforward and relate to basic safety and health standards (sloping towards drains, smooth, and easily cleanable).
Secondly, the product you'll more than likely need will be an industrial-strength, multi-component epoxy floor coating system. This technology is made for a clean room environment and is installed by professionals who know how to correctly handle, apply, and cure the resinous flooring system.
This goes beyond a simple painting of the floor, which results in a thickness of a mere three to four mils. A two- or three-layer epoxy system will produce a much thicker protective layer that's suitable for a cannabis growing environment.
Other items you'll want to check off when reviewing potential flooring products include:
• FDA and USDA compliance – Current and future regulations
• Durability to withstand fertilizers, pesticides, heavy moisture, and harsh UV light
• Low VOC and low odor
• Light color options to help maintain proper light levels and stay energy-efficient
• Smooth and virtually seamless to prevent bacterial growth and clean with ease
• Slip resistant for employee safety
Ask Yourself These Three Questions Before Finalizing Your Flooring System
Now that we've briefly gone over the basics of the flooring options, it's time to zero in on the right solution for your business. In such a diverse and rapidly expanding market, no two businesses (nor their facilities) will be alike.
Here are three questions you should ask to narrow down your options:
1. What are the long-term plans for our facility?
This will help your flooring partner understand the lifespan and durability you need to get out of your flooring solution. If you only plan to be in the space for a few years, then a layer of primer and a layer of high gloss sealer will provide sufficient protection.
2. What are we willing to invest?
On the other hand, if you're looking to be in the space for the long haul, then you will want a system that will stand up to UV lights, abrasion, chemicals, and other impacts of the growing environment for years to come. A multi-component epoxy flooring solution designed specifically for a cannabis growing environment will suit your business best.
3. What is the current state of the substrate?
This is especially important if you're one of many marijuana growers who choose to repurpose older, unused industrial facilities. Unfortunately, these often come with deep flaws in their floors. But these flaws, such as excess or uneven surfaces, can be remedied. Your flooring partner can set up plans to include moisture mitigation or the installation of a new base layer of urethane mortar cement to level any unevenness before installing the flooring system.
The Risks of Bare Concrete
While leaving the floor as bare concrete may seem like a viable place to trim the budget, you may end up feeling like you cut a corner down the line.
Concrete floors can pose unique challenges when left untreated, which can inadvertently create unforeseen problems and unexpected costs.
Its porous nature can lead to bacteria growth and risk the health of your plants. Further, some state and municipal codes won't allow it (mirroring the food processing industry standards where hygiene and sanitation are of the utmost importance). For example, the Public Health Agency of Los Angeles County doesn't allow unprotected concrete floor slabs because of the material's natural absorbency.
Frequent repairs to concrete can disrupt growing, wasting valuable time and money. And while we're talking profitability, the dark, non-reflective nature of concrete means you'll need more lights in the growing environment — and garner a higher electric bill.
Need Flooring Expertise for Upcoming CGF Retrofits and New Builds?
At the end of the day, you know your facility needs, budget, and long-term goals best. This insight, combined with the knowledge of a team of technical service engineers, will ensure you select the best-fit products and find a flooring solution that lasts. Start a conversation with a Dudick flooring expert.