Port Fourchon is not the end of the world, but it is at the end of Louisiana.
Harvey Gulf International Marine is among the many firms whose fleets dock here. Locals know a Harvey ship by its striking blue livery. The firm's ocean supply vessels (OSV) shuttle supplies, equipment, and crews back and forth between deepwater Gulf oil rigs and the mainland.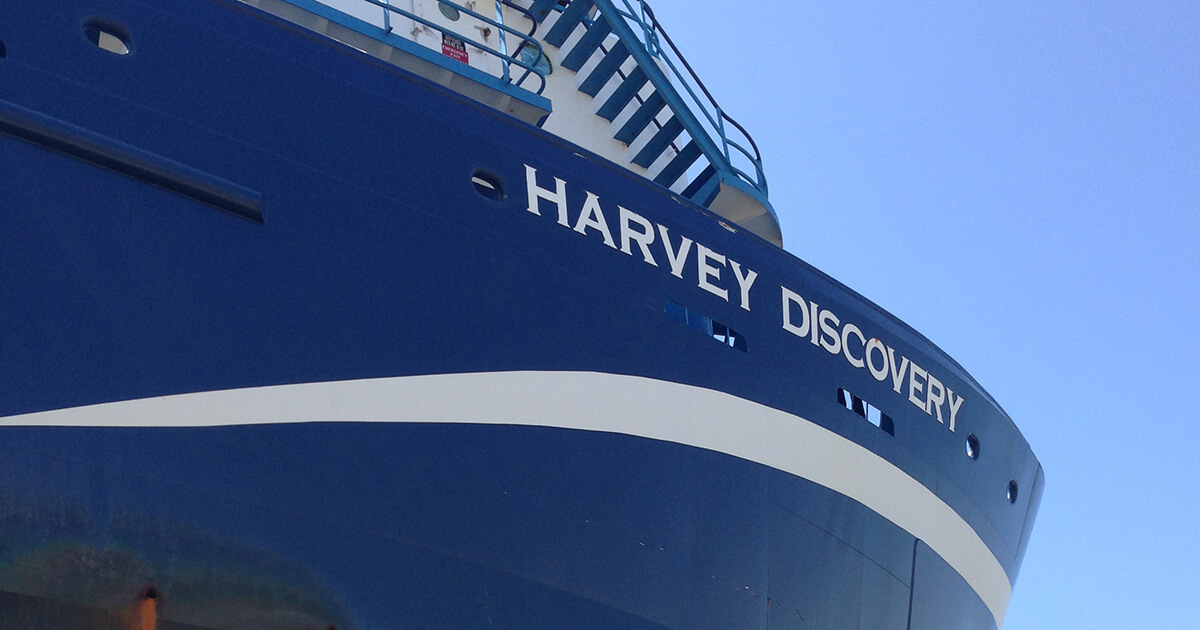 The Harvey Discovery is one such vessel, measuring 256 feet (80.8 meters) long and 58 feet (17.7 meters) wide, and capable of carrying 3,500 tons (3,557.2 metric tons) on her 8,700-square-foot (808.7-square-meter) cargo deck. It's hard, expensive work to protect her hull from corrosion. That work must be done efficiently and cost effectively if her service is to turn a profit because neither Harvey Gulf nor any maritime transportation company is in this business just for the pleasure of it.
And Harvey Gulf is certainly pleased about the maintenance cost savings they've seen which are the result of a crucial decision made just before the 2011 repaint of Harvey Discovery's hull.
Carbomastic 15 on the Harvey Discovery
Until 2022, U.S. federal regulations required that OSV owners like Harvey Gulf dry dock their ships twice every five years.
Even if that mandate annoyed owners, from a corrosion protection perspective, that's an appropriate frequency. An owner or operator would be very, very happy at eight years of service life for a hull coating.
It is more likely that hulls are totally repainted every five years or less. Even when they are properly prepared and coated, their service environment is incredibly corrosive. Most of the time, our field personnel see hulls covered in blisters, a signal that the coating has failed.
That's most of the time. But it's not all of the time. And certainly not for Harvey Gulf, who has dramatically reduced the amount of labor, time, and cost expended every time Harvey Discovery is hoisted out of the water.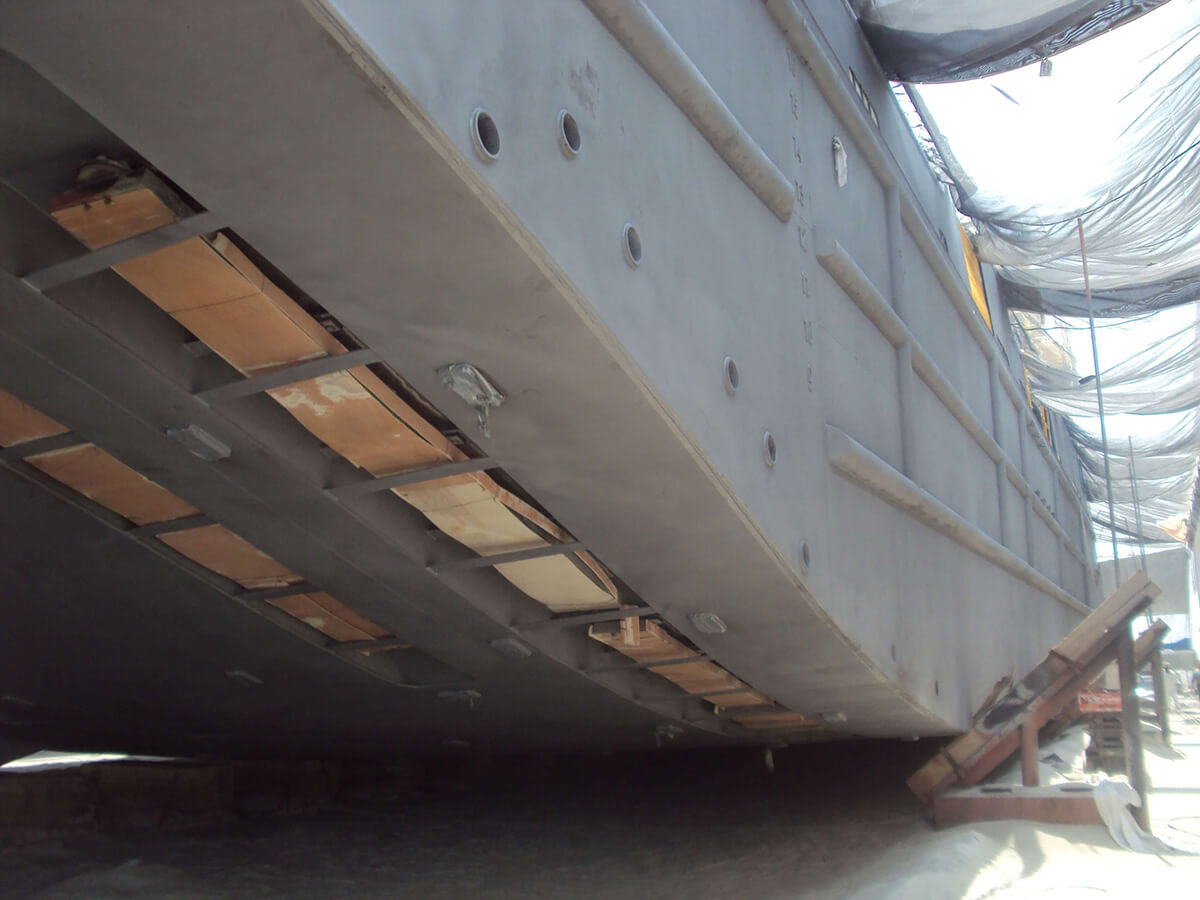 2011 Repaint
The Harvey Discovery hull was repainted for the first time in 2011, five years after the ship was first laid down. It was a full repaint, requiring abrasive blasting to SSPC SP 6 on every square inch of the hull before new coatings were applied.
Blasting and recoating the hull of a 265-foot OSV is long, expensive work. It can take a six-person crew up to six days to complete and cost $150,000 to $180,000.
Could that cost be reduced? Could that time spent out of revenue service be compressed?
The answer wouldn't come from blasting differently. Instead, it came from choosing a different hull primer.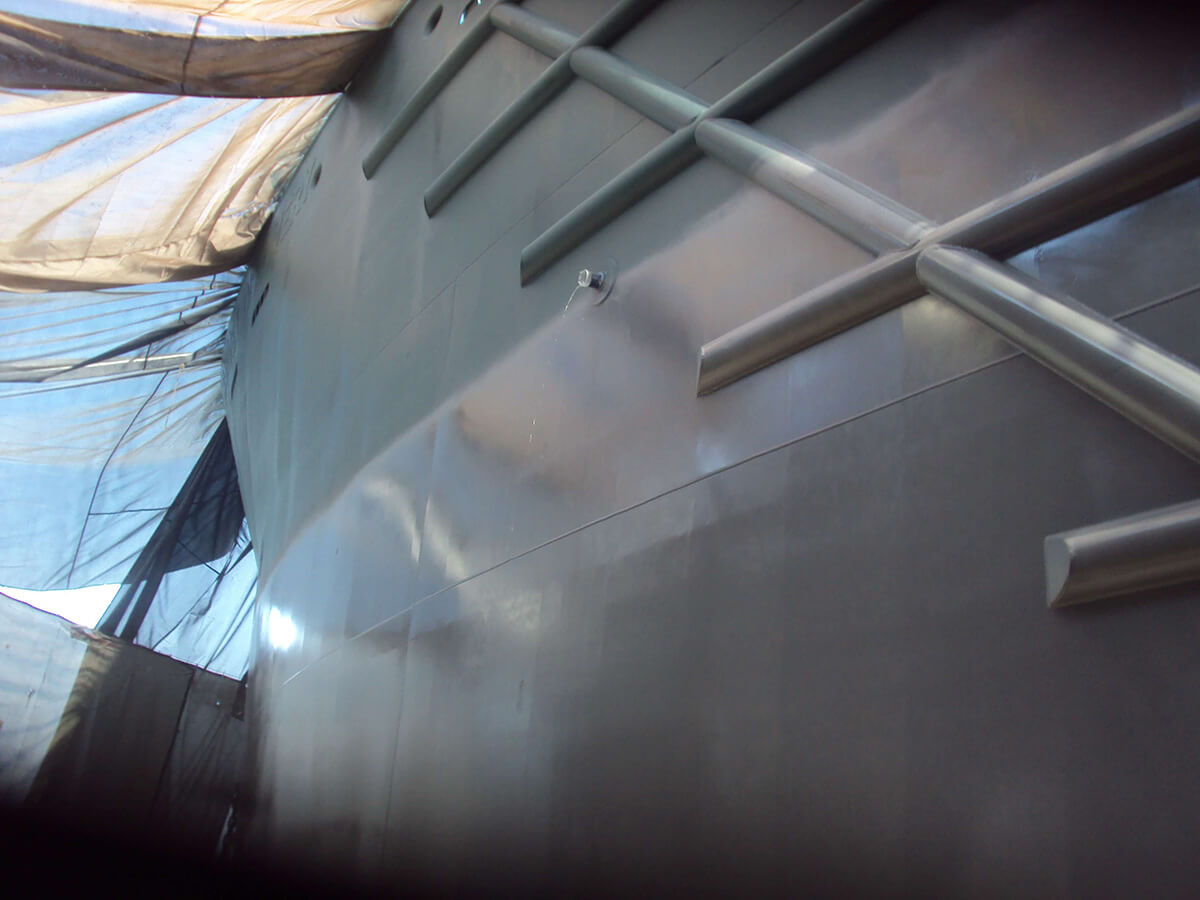 Carbomastic 15 FC is a fast-curing epoxy amine mastic primer. Its superior barrier protection qualities come from the lamellar aluminum pigment; it's been long trusted to protect assets against corrosion in extremely harsh environments. (We recommend Carbomastic 15 FC—the faster-curing variant in this product series—for maintenance activities where time is short. Straight Carbomastic 15 is recommended for new construction.)
Of course, this decision was not the sort that pays off immediately. It would be years before Harvey Gulf could judge whether it was the right call.
2014
The first signs of success emerged when Harvey Discovery was dry docked in 2014.
After cleaning via power washing, paint crews observed only a negligible amount of damage to the hull coating. These localized areas were slurry blasted and spot primed, followed by a routine application of anti-fouling.
A Carboline field technical service report from this episode stated that slurry blasting, priming, and application of anti-fouling occurred over the course of just two days.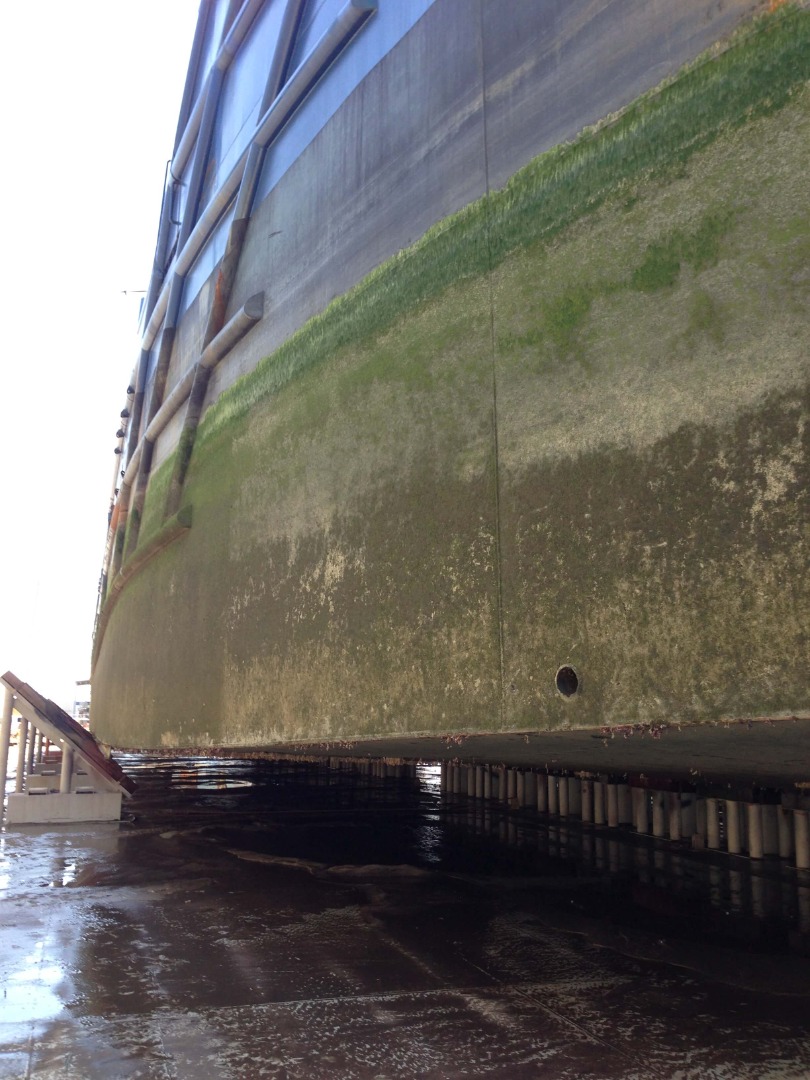 2016
We next viewed Harvey Discovery almost exactly two years later, when she was again dry docked to receive a new anti-fouling coating.
Our inspector reported "the hull had little to no blistering" despite being five years since its last full repaint. The hull was pressure washed, small areas around the pad eyes were spot primed, and the anti-fouling treatment was applied.
2018
Harvey Discovery was out of the water again in late 2018 to receive repairs to her stern thruster.
Curious of the state of her hull, our inspector returned to the shipyard. He observed no defects of any kind in the coating. Aside from a normal amount of marine growth below the waterline, the condition of the hull appeared unchanged.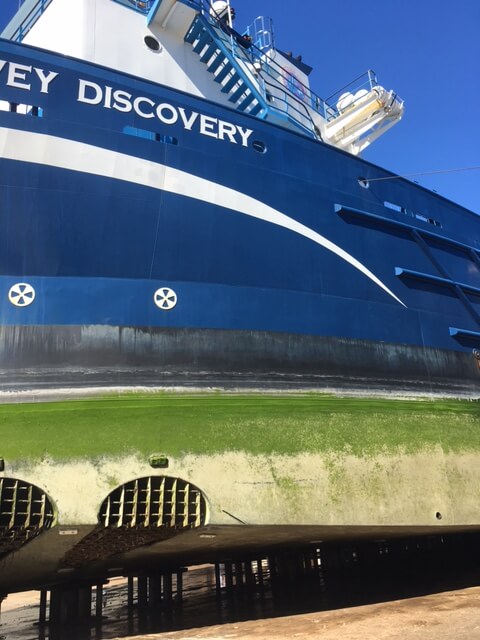 2019
We returned to the dock the following spring to assist in spot repairs to Harvey Discovery's coating, primarily above the waterline and along her bulwarks.
Images attached to the technical service report generated from this visit show that the hull was still in excellent shape. No defects were observed and no touch-ups to the coating of any kind were recommended.
2021
In December 2021, we paid our most recent visit to Harvey Discovery. Paint crews were working on more bulwark areas requiring localized blasting and touch-ups.
The hull remained in great shape. As with the prior inspection, no defects were recorded and no repair or maintenance coating was needed on the hull.
As of this writing in late 2023, Harvey Discovery continues in her service on a hull primer applied in 2011.
And while we're thrilled about the product performance, Harvey Gulf must be thrilled at the amount they've saved by repeatedly not blasting and entirely recoating Harvey Discovery's hull. It's easily half a million dollars.
On the strength of the performance of Carbomastic 15 FC on Harvey Discovery, Harvey Gulf has begun using the product for hull recoats as each of its ships comes due. Multiply that savings by a fleet of 52 vessels and see what happens to the bottom line.
Subchapter M and the Case for Carbomastic 15
There's even more at stake than product performance or money saved.
A new U.S. Coast Guard rule related to towing and other vessels is designed to further reduce the burden on vessel owners. Subchapter M describes the criteria that will allow for underwater inspections of vessels and change the rule from two dry dockings every five years to just one for saltwater vessels.
In our view, the Carbomastic 15 series of primers for saltwater service represents a tremendous opportunity for shippers who are driven to reduce the time and expense of dry docking by increasing the likelihood of passing underwater inspections.
Even more fundamentally, it's a way for shippers to keep aging fleets in service longer. OSVs are complex feats of maritime engineering; for up to $80 million and a monstrous amount of energy, you can have one built new.
But the most sustainable vessels are the ones already on the water. And when they're well protected, they also turn the best profit.