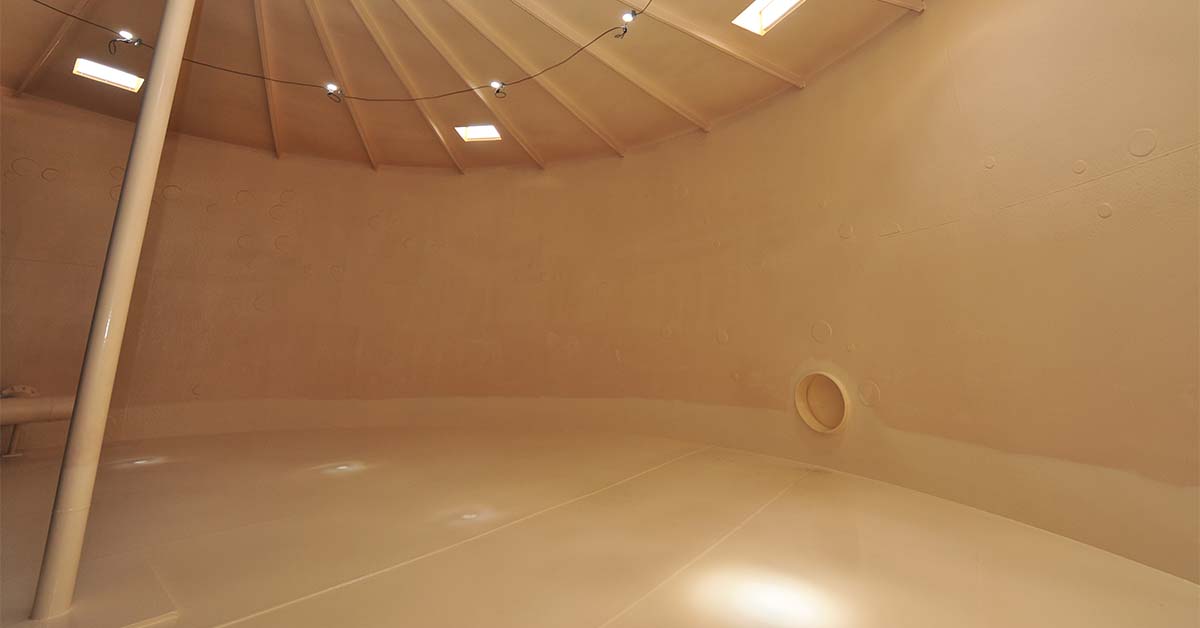 Before being dispensed to the community through our kitchen sinks or bathroom faucets, water is first filtered and then stored in either water towers or ground storage tanks across our local municipalities. Because water is tasteless and an integral part of our daily lives, the average person likely doesn't give much thought to where the water is stored or which material lines the inside of a water tower. That's a good thing because, as the coating manufacturer, the last thing that we'd want is a consumer tasting epoxy when drinking a glass of water.
With potable water linings, there are strict criteria that must be met and tests to be conducted before a water storage tower is approved for potable water use. In the U.S. and Canada, this includes the NSF/ANSI/CAN 61 (soon to be NSF/ANSI/CAN 600) certification for water treatment. However, not all water tanks are meant for drinking purposes and, therefore, don't require meeting the stringent standards of potable water approval.
The type of lining needed for a water storage tank depends on a variety of variables, such as its temperature and contents. For example, ambient seawater or tap water may be reasonably inert, but demineralized water at 200° F may require a novolac epoxy or a coating with glass flake reinforcement. On the other hand, if the temperature is bumped up to 212° F in the form of steam, the water tank would likely require a more breathable coating to handle the internal pressure fluctuations. In other words, it's all about context and picking the right tool for the job at hand.
Selecting a Water Tank Lining Based on Specific Needs
When it comes to linings for potable water towers, the NSF/ANSI/CAN 61 water treatment certification is a basic requirement. Whether this testing is conducted by the National Sanitation Foundation (NSF) or Underwriters Laboratories (UL), your coatings supplier should have a list of all products that have been approved for potable water use.
With this in mind, there are three main questions that will help you narrow down a water tank lining that suits your specific needs:
1. How Many Gallons Does the Vessel Hold?
Coatings with certification markings have a minimum gallon rating in order to maintain NSF/ANSI/CAN 61 compliance. This has to do with surface contact area to volume ratio and can vary greatly between products. In general, a 100% solids product, such as an epoxy or an aromatic urethane, will have a lower minimum gallon rating than a solvented coating or other lower-solids product. In addition, certain coatings have lower minimum gallon ratings for higher cure times. For example, an epoxy polyamide or a cycloaliphatic coating could have a 70,000 gallon rating after a seven-day cure at ambient temperature, but only a 50-gallon rating after a fourteen-day cure.
2. How Long Before the Vessel Goes Back into Service?
Shutting down one of the few water sources in a town can often put a heavy load on its water systems—especially for smaller municipalities that may not have all that much excess storage capacity. In a case like this, getting the vessel surface prepped, coated and back into service as soon as possible is obviously in the best interest of all parties involved. Therefore, the cure time reported in the NSF/ANSI/CAN 61 testing should be followed.
3. Does the Water Tank Lining Require a Primer?
Many potable linings can be applied directly to the substrate. However, there are certain factors—especially in cases where there's a large surface area to coat—that require the use of a primer. Keep in mind that primers have minimum gallon ratings as well. After all, just because a primer is approved for potable water use does not necessarily mean that it is compatible with the actual lining. Before pulling the trigger on a primer, make sure to check with the coating manufacturer on whether or not your lining and primer are an appropriate match.
On the other hand, non-potable water is a much broader category with many more potential variables at play. For instance, does the water tank hold sea water or demineralized water? Is it industrial water with a potentially higher or lower PH value than neutral? Does the non-potable water contain sediment or abrasive media? In addition, does it have a high service temperature?
Other Coating Limitations to Consider
In general, it's recommended that you check with the coating manufacturer to confirm which products fit the bill for a particular service. That said, most of the coatings that are approved for potable water use can handle most of the water services at ambient temperature.
However, this gets trickier at higher temperatures—especially for demineralized or distilled water types that have a lot less going on in their molecular structure, making them more capable of penetrating linings. Epoxy coatings with glass flake reinforcement, 100% solids linings, baked phenolic coatings and even vinyl esters tend to perform well under these conditions.
In addition, certain products such as some thin film epoxy polyamines are touted as "breathable" and can handle steam temperatures and PSIs upwards of 1,000. If a water tank potentially contains sediment and abrasive media, then it's critical to choose a coating that has been tested under ASTM D4060 for good abrasion resistance. Having a thick film with additional barrier protection can help here as well.
Because coating limitations are heavily dependent on a specific product, it's important to work closely with your coating manufacturer to find a lining that suits your specific needs. Luckily, the American Water Works Association (AWWA) offers an excellent system guide known as AWWA D102-17 for coating steel water storage tanks that covers everything from pre-construction primer options, to interior and exterior coating systems. For the purposes of this blog post, see section 4.4 for "Interior Coating Systems," which recommends six different coating systems—ranging from single-coat polyisocyanate resin materials, to urethane primer and epoxy systems.