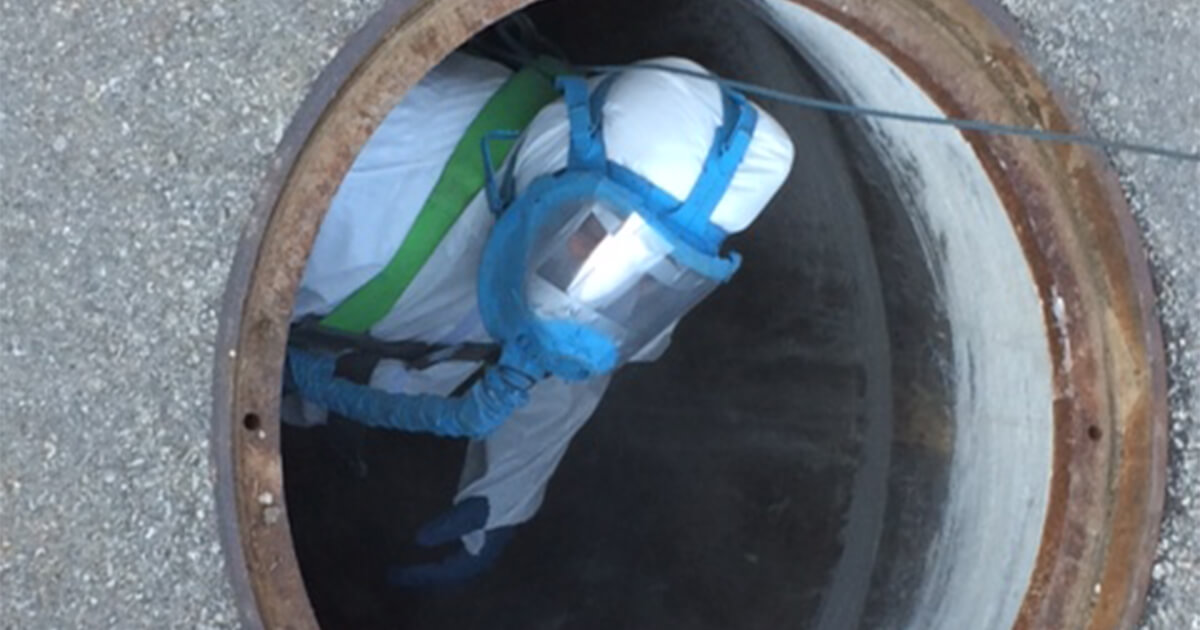 Serving a vital function in the local community, wastewater collection systems are designed with underground pipes and maintenance structures used to collect and convey wastewater away from homes and businesses to be treated at a water resource recovery facility. During this process, wet wells temporarily store the wastewater, lift stations pump the wastewater to a discharge point at a higher elevation, and then the wastewater is sent through a gravity line to a treatment facility.
For a moment, let's imagine that this wastewater collection system didn't function properly and all of our municipal waste had nowhere to go. It's not a pretty picture, but that's exactly why it's so important to protect these wastewater collection systems from degradation using the right industrial coatings.
How Do Wastewater Collection Systems Work?
Wastewater collection systems essentially gather two different types of waste—municipal waste from homes and businesses, and storm water. Municipal waste tends to mainly produce hydrogen sulfide and ammonia, which can be moderately aggressive. On the other hand, waste from storm water run-off collection starts off clean but, as it moves along the surface, picks up sediment and contaminants such as grease, chemicals and other pollutants.
Because of these factors, wastewater collection systems—plus the pipelines that transfer the wastewater and the storage vessels that house it—all take a fair amount of abuse. Not only can wastewater be aggressive to surfaces chemically, but it also has the potential to carry abrasive media along with it—which requires more fortified protection in the form of industrial coatings.
Which Industrial Coatings are Best for Wastewater Collection Systems?
It's common for 100% solids products to be used throughout wastewater collection systems. If it's concrete, the surface will typically be repaired with a cementitious mortar or epoxy patching compound, and sealed with a water-based epoxy primer, phenalkamine epoxy or solvent-free epoxy primer. It will then be top coated with either an aromatic urethane—which tends to perform well with concrete, has good abrasion resistance and high film build—or, if it's chemically severe, a 100% solids epoxy or epoxy novolac. These can also be high build, abrasion resistant (especially for the novolac), and highly chemical resistant.
If an aromatic urethane is selected, it's crucial to consider which primer can go underneath it. This is because the high cohesive strength of many elastomeric aromatic urethanes is so high that they can be difficult to adhere to other coatings. These can often be applied directly to concrete substrates as well.
However, not all of these wastewater collection systems, tanks and vessels are concrete, so a good reference to follow is the American Water Works Association's (AWWA) C210-15 Liquid-Epoxy Coatings and Linings for Steel Water Pipe and Fittings. This C210 requirement fits the bill well for wastewater collection systems and provides a good indicator for whether a product will be able to handle this type of service. Keep in mind, though, that this is limited to epoxies. It also is designed for solutions that are meant to be applied directly to steel.
That said, having an appropriate primer, and an AWWA C210-15 compliant industrial coating that's capable of adhering to it, will still give you a good leg to stand on when it comes to protecting your wastewater collection system—even if it's a concrete substrate.
Want to Explore Coatings for the Wastewater Collection Process?
Check out Carboline's wastewater asset protection guide, which offers an interactive, step-by-step look through the wastewater collection and treatment process. It outlines each asset, along with recommendations for coating and lining options for each substrate within the structure.