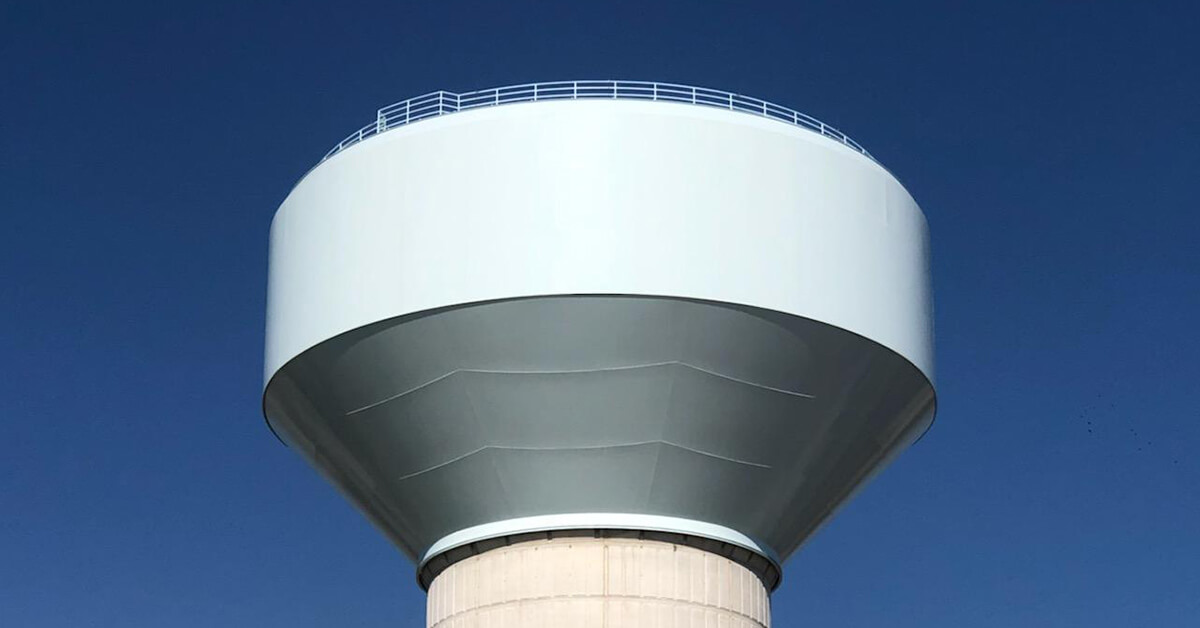 Over the course of my career, I've had the opportunity to protect countless steel water tank exteriors—from rolling overcoat systems on tanks in the woods and painting the Pepsi logo on a water tower, to stenciling a high school mascot on a water tank near the football stadium and applying a three-component coating system on a tower near a southern coastline.
Depending on the specific circumstances at hand, there's a surprising level of variability in how the application process is performed and which types of industrial coating systems are best suited for the job. For instance, a fluorourethane or polysiloxane coating may be chosen for a water tank that has significant sun exposure and public visibility, while an overcoat system may be all that is needed for a water tank in the woods that has little exposure to the elements and moderate shade.
Generally speaking, traditional coating systems in these types of situations will come equipped with an inorganic zinc primer, epoxy intermediate, and aliphatic polyurethane, siloxane or fluorourethane topcoat. Siloxane and fluorourethane coatings are ideal for gloss and color retention, but can be somewhat expensive. Aliphatic polyurethanes are also no slouch in that regard and perform very well in coastal, salt-laden environments. In addition, they tend to perform well when there is the potential for industrial fumes being present—especially high-build urethanes containing polyester or other similar materials. Corrosion-inhibitive epoxies as a primer and intermediate are not uncommon as well and, although they generally don't provide the same corrosion protection as an inorganic or organic zinc-rich primer, they are still a solid choice for steel water tanks.
Moisture-cured products can be beneficial when a water tank isn't able to be drained and condensation issues may be present, or in a high-humidity environment where a traditional system won't work until cured. This can be a zinc-rich, moisture-cured urethane primer with two coats of a moisture-cured urethane topcoat of similar coating technologies.
In some cases, it may even be as simple as a four-component alkyd coating system, with a red oxide or aluminum primer for added corrosion protection. Although typically considered to be a cost-effective system, it will perform exceptionally well in an environment that's not particularly corrosive.
In terms of cost-effectiveness, an overcoat system may be sufficient for extending service life in the short term. This is not an equal substitute for commercial blasting to bare substrate and starting from scratch, given the service life of coatings are considered proportional to the surface prep involved. However, an overcoat system is a great choice for a quick, relatively cheap job that will look great and continue to provide protection. This typically involves SSPC-SP 1 for Solvent Cleaning, SSPC-SP 2 for Hand Tool Cleaning or SSPC-SP 3 for Power Tool Cleaning—often by means of pressure washing, abrading and applying the coating. Once the surface is prepped, it's most often coated with a relatively surface-tolerant coating (such as an epoxy, or even a water-based or alkyd coating) and then sealed with a UV-resistant topcoat that's compatible with the tie-coat.
Because this topic can certainly be a lot to digest, the American Water Works Association (AWWA) offers a variety of helpful resources, including the AWWA D102-17 guide for coating steel water-storage tanks. This guide covers everything from pre-construction primer options, to different types of interior and exterior coating systems. For the purposes of this blog post, Section 4.3 for Exterior Coating Systems offers seven coating system options with mil thicknesses, generally ranging from 5.5 to 6.5 mils.
Learn More About Carboline's Potable Water Tank Linings & Coatings
Download our water storage tank brochure for optimal protection, inside and out.